The Novation Dicer is a novel midi controller designed to sit in the 45 adapter slot of a Technics turntable. It was the first controller to get support within xwax.
Setting up the Novation Dicers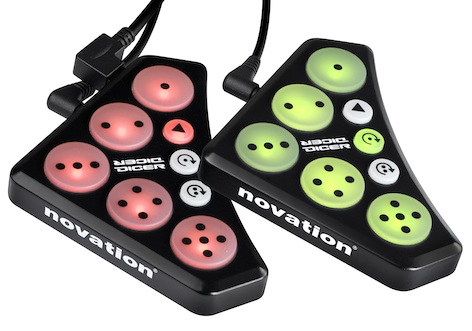 Connect the Dicers to your computer via USB and then launch xwax with the --dicer flag followed by the Dicer's ALSA device name.
e.g. --dicer hw:Dicer
(Note that version 1.3 or older uses the -dicer flag, with a single hyphen)
Using the Novation Dicers
The Dicer has 3 different modes, selected by the three small buttons on the controller. Currently the third mode is unused.
Buttons with a cue point set to them are lit, those without are dimmed.
| Mode | Button | Function |
| --- | --- | --- |
| Cue | Dice Button | Jump to the specified cue point, or set it if unset. |
| ::: | Dice Button + Mode Button | Unset the specified cue point |
| Punch | Dice Button | "Punch" to the specified cue point, or set it if unset. Returns playback to normal when the button is released, much like slip-mode on Pioneer CDJs. |
| ::: | Dice Button + Mode Button | Unset the specified cue point |
| Unused | n/a | n/a |
See also